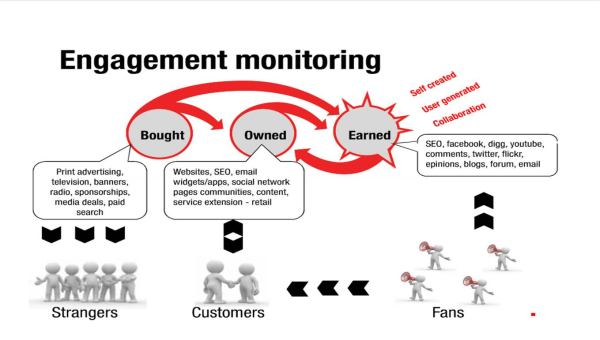 When I was a kid, there was one kind of milk you could buy: the white kind. But now you choose from whole, skim, 1%, 2%, organic, and chocolate. Media is a lot like that. You used to spend money for one thing: exposing customers to marketing messages. Now you choose from "bought media", "owned media", and "earned media." The definitions:
Bought media: media you pay for like print ads and banner ads.
Owned media: media you own and control such as your company website, blog, newsletters or digital magazines. Your organization publishes these.
Earned media: exposure you "earn" by posting content on social networks, forums, and websites that you do not own. Examples are comments posted on blogs, photos shared on Facebook, or videos uploaded to YouTube. Here is chart from a presentation from Alex Wong that illustrates these three kinds of media.
Conventional wisdom says each of these media has different strengths:
Owned media is best for reaching your current customer base. Since your organization should have the most complete list of your own customers, publishing a newsletter or digital magazine to that list should provide the best coverage available.
Bought media is best for reaching new customers. The weakness of "owned media" is that it reaches largely people who are already customers or inclined to become them. Since paid media is purchased from a 3rd party publisher you will more often find customers of competitors.
Earned media enables your biggest fans to advocate for you. Every company has customers who, if properly motivated, will advocate for you online. While this is basically an organic process that you have no direct control over, smart organizations find ways to encourage this process along. Many mistakenly think that earned media is free. While there is no charge for posting content on most social media sites, the task of doing so requires staffing for the function, and adding staff is never free.
Earned, owned, or paid media. Which should you emphasize?
If your customer are heavily involved in social media, then earned media needs your attention. If you have not asked about your customers social media involvement in a year, you need to ask again.
If you sell a utilitarian product like car batteries, or commodity products like toothpaste or paper towels, paid media might be best. When was the last time you saw a passionate blog post or successful
newsletter about toothpaste?
If most of your business comes from repeat customers, you need to think more about owned media.
Different media work best for different situations. Along those lines, I prefer skim milk in my morning cereal, but 1 or 2% % for hot coca.
See Alex Wong's entire
presentation
on slide share