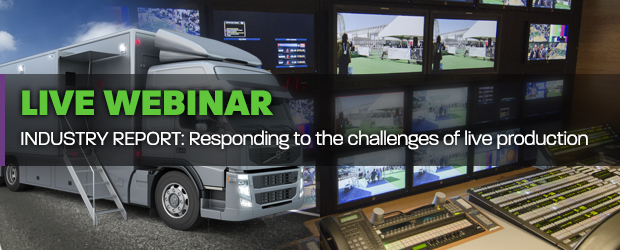 Struggling to stay efficient in your truck/OB productions?

You're not alone. We have answers that can help.
Live programming, especially sports, continues to drive technology in the broadcast business. In fact, it's one of the last remaining bits of "see it now" television that broadcasters crave to satisfy viewers and advertisers alike.
Join us for a free Webinar, as industry researcher Josh Gordon joins truck production legend George Hoover, from NEP, in a discussion about the challenges truck pros are facing. Using results from a recent survey of broadcasters, our host and his guest will identify key problem areas that put a strain on truck production and suggest how they can be overcome.
Come and explore the trends this survey has uncovered and listen as we discuss ways you can adapt and be ready for the future.
The webinar will address:
Truck set up challenges

Live control room challenges

Big trucks vs. small trucks

Truck economics

Questions and answers
Webinar is scheduled for Thursday, January 23rd
8:00 am PST, 11:00 am EST,
5:00 pm ET, 4:00 pm GMT
About the presenters
Josh Gordon, is president of the Josh Gordon Group, a marketing service company that helps organizations succeed through a greater understanding of technology trends and customer needs via research. He is well known in the television technology market as an early trend spotter and is the author of several books on the sales and marketing process.www.joshgordon.com
George Hoover is Chief Technology Officer of NEP. Mr. Hoover is a three time Emmy winner, and was awarded the Broadcasting & Cable Technology Leadership Award, inducted into the Sports Video Group Hall of Fame and named a Fellow of the Society of Motion Picture and Television Engineers. He is also co-author of the book, "TV on Wheels, The Story of Remote Television Production."