Sales and Marketing Strategy Books
Josh Gordon has written four books on sales and marketing that have been translated around the world. His most recent book, "Presentations That Change Minds," received the Gold Medal Award from the Sales Book Awards competition, for best presentation book of the year. Following are the four books: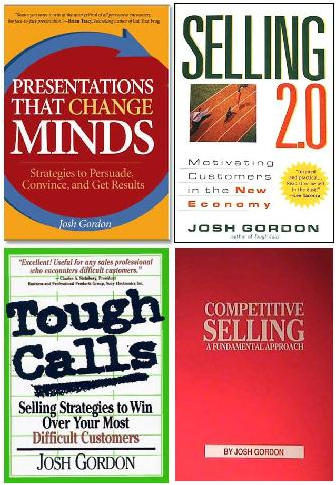 Presentations That Change Minds: Strategies to Persuade, Convince and Get Results
Publisher: McGraw-Hill
The first strategy book written on persuasive presentations. Each chapter covers one of 14 basic persuasive strategies, showing how to research, plan, and implement it to create a compelling presentation.
Translated into Chinese



Selling 2.0: Motivating Customers in the New Economy
Publisher: Berkley Books
This book introduced the idea that salespeople must move from being product advocates to "customer motivators." It identified the top 17 approaches that salespeople can use to motivate a customer to buy and offers practical advice on how to put them into practice in the field.
Click to read CRM Magazine's review of Selling 2.0.
Click to read a German magazine review
Translated into German and Chinese.



Tough Calls: Selling Strategies to Win Over Your Most Difficult Customers
Publisher: Amacom Books
A step-by-step guide to winning over problem clients. Each chapter discusses a different kind of problem client and offers real-world advice on how to get through to them. Chapters include, "The Clients Who Grinds You on Price," "The Client Who Will Not See You," and "The Client Who Buys Elsewhere on Relationships" and 16 others.
Watch video clips of coverage from CNN, CNBC, Wall Sreet Journal TV, and The Fortune Business Report
Translated into German, Chinese, Taiwanese, and Korean.





Competitive Selling: A Fundamental Approach
Publisher: Folio Books
The first professionally published book on how to sell magazine advertising, with chapters on finding the decision maker, selling contracts, selling the value of magazine advertising, and handling ad agencies.
Gordon's books have been covered in Fortune, Business Week, USA Today (three times), Fast Company, Success (twice), The Mail On Sunday (UK), Inc. Magazine, Sales & Marketing Management, and SellingPower, and have been the cover story of nine magazines and newsletters.