In 2008 the recession hit Marcus Sheridan's company, River Pools and Spas. As his business suffered he tried something new: Posting strategic content on his company blog. In a video produced by the Social Media Examiner we see just how Sheridan turned around his business by posting unique content that quickly became his company's best salesperson.
There has been a lot of information posted on the Web about how content can sell services. But for me, this one stands out because we find out exactly what kind of unique content became Sheridan's best salesperson and how. This story is also a compelling one because it is about selling swimming pools, not the latest high-tech gear which comes with a lot of intrinsic interest. Sure, when Steve Jobs launched the iPhone the content Apple released was an important part of the success. But swimming pools? If you can use strategic content to sell swimming pools, the same approach can be used to sell anything.
Not to spoil the fun of watching this video, but it turns out the one thing no pool company in Sheridan's area wanted to talk about was also the one thing most buyers want to know about most: How much do pools cost? When Sheridan posted a detailed article educating home owners on what to expect cost wise his blog exploded, and so did his business.
The essence of great content marketing is to have UNIQUE content that potential customers really want to know. Take the next seven minutes and watch a great interview conducted by Michael Seltzer of the Social Media Examiner: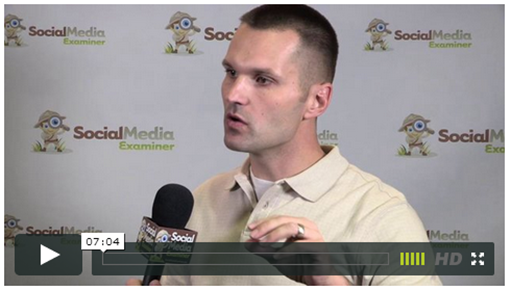 Click HERE or on the image above to listen to all of Seltzer's insightful commentary.