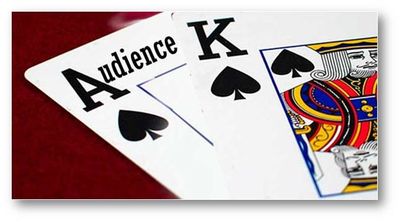 Wait a minute! This blog is about the power of content and its ability to persuade. Am I saying that content is no longer King? To that I say both yes and no.
Yes, content is King and publishing it is the most persuasive tool a marketer has. But publishing content is not the end goal, but a means to an end. Content that educates or entertains can attract an opted in audience of potential customers, every marketers dream.
No, content is no longer King: many failing traditional publishers are loosing business thinking their end game is content distribution. A recent article in Time magazine documented how traditional content companies are being devalued:

"Content is rapidly being devalued. The first people to press that case are accountants. They have insisted that companies from News Corporation (NWS) to The New York Times (NYT) to Time Warner (TWX) to CBS (CBS) write-down tens of billions of dollars in assets. Cablevision (CVC) bought the large daily newspaper Newsday less than a year ago. Its accountants reduced the value of that property by 70%. That was not simply the value of the Newsday building. What they were saying is that the income from the property has been impaired, probably permanently."
Don't fall into this trap. It is not enough just to create and distribute content as an end goal. Content has a new function on the web. Ben Elowitz, writing in PaidContent, advocates four qualities that make web content effective. What Elowitz describes is content on a mission. Once released this new breed of content travels the Web and builds an audience in its wake:

"Relevance. When users are skimming thousands of pages from a hundred sites per month, without question the most important factor is whether your content is relevant to the audience.


Make experiences, not content. In old media, the editors made the content and that was the product. Not any more. Technology and content today are fused like peanut butter and chocolate in a Reese's, and together they go by the name of "experience."


P.O.V. information is proprietary for a few minutes, and then – if it's valuable – it spreads like a cold in a grade-school. While a minority of publishers build a business around sourcing proprietary information, the vast majority offer something far more valuable and ownable: perspective. In digital media, that is far more important, as the same information appears in hundreds of places. The Huffington Post has a paucity of proprietary reporting, and yet earned an audience of 23 million monthly U.S. users by offering points of view that are meaningful to its progressive audience, while ABC (NYSE: DIS) News has tons of original reporting but less than half the online viewers

Distribution. In the old days, content was assigned and written to appear in one place. Now, it appears everywhere—in blogs, in Facebook, in Twitter, and in search engines. This distribution ability is built-in to the content itself. The words in the writing determine whether it will show up at the top of Google or on page 10. The names you drop in the content determine whose vanity Google Alerts will be set off, beginning a chain reaction of tweet and retweet. And the style and hook of the content and its headlines will determine its virility. Content that has no destination draw, no pass-along, and no search indexability is plain and simple dead-end content. And like a tree falling in the forest, even the most beautiful content is irrelevant if it's unseen or unheard."
On the web, content is the ultimate audience building tool. If you can assemble an audience of your customers or potential customers, you have a the ultimate marketing opportunity. Content is still King, but audience is Ace.
Read Ben Elowitz's excellent PaidContent article

Read the Time article Content, Once King, Becomes A Pauper