Despite every sales guru on the planet telling us that the power in the buyer/seller relationship has shifted to the buyer's side, the dialog of lead generation sounds like sellers are still in control.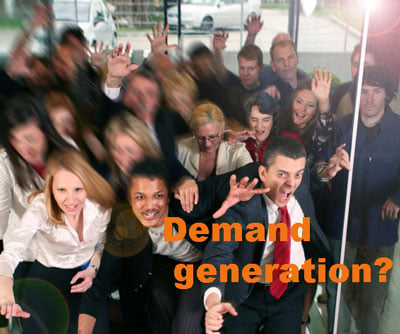 Don't believe me? Then do we call the process of gathering sales leads "demand generation?"
Lead gen systems almost never create original customer demand for products, instead they uncover existing buying intentions that have been developing for some time.
I'm not knocking lead generation programs, they are incredibly useful. According to Forrester Research up to 70% of the B2B product buying cycle now occurs before salespeople are contacted. Revealing developing buying intentions before sales contact gives companies a huge, huge market advantage. But calling this process "demand generation" sets the wrong mindset for success.
If you could put your customers in a big room, explain your lead generation program to them, and then tell them this program had "created demand" among them, they would find it laughable.
At the end of the day, it does not matter what you call your program. What matters is this:
If you really believe that your program is what is creating demand you will not dig deep enough to find what is really motivating your customers to respond to your lead gen programs. What are the deeper motivators? Is it that heritage equipment that needs new capabilities, facility expansion, a competitor starting to fail, desire to save energy, response to financial opportunities or cutbacks?
You have little or no control over the internal buying motivations of the companies you do business with. Customers will show up in your "demand generation program" for their reasons, not yours.
But it is in understanding their reasons where great lead gen programs are born.