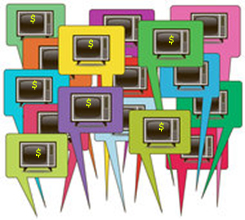 As younger TV viewers watch a program, many of them chat about it on social media. Is this a big deal? Watching this happen as the parent of a teenager, I'd say maybe not. But it is actually proving to be important for the economic health of the broadcast industry.
All media companies are fighting ad commoditization because new digital media are being created every day. For example, this is happening with banner ads on consumer websites. In 2005, Bain & Company reported that there were over 200 million ad impressions offered to media buyers in the US. Three years later, in 2008, there were four times as many, or about 800 million offered. Why? Because the number of websites offering consumer advertising increased proportionally. During this same time, the cost of these website banners (as measured in CPM) dropped by half. It is simple supply and demand.
The television organizations are in the same boat. As more ways to view television become available, more ad inventory is added and ad prices drop. With an oversupply of digital media, media buyers have stopped putting as much value on "eyeballs" and instead now focus on finding media that delivers more "engagement."
Media buyers are interested in social media, not because it is cool, but because it is highly engaging. Television programs with a social media trail have a certain proof of media engagement. If a TV viewer likes a program enough to watch it, that's good. But if a viewer likes a show enough to watch it and chat about it to friends on social media, it proves a higher level of engagement.
Last May at the "Upfront Market" an event where broadcasters showcase their new fall programs and can sell up to 70% of their ad inventory for the year, social media was center stage. As reported in The New York Times:
"At almost every turn this week, television networks are talking about being liked - not only in the ratings, but also on Facebook and Twitter. Social media have been an integral part of the sales pitch at the "upfront" presentations held by Fox on Monday, ABC on Tuesday and CBS on Wednesday."
A TV show that can prove engagement can often keep ad pricing at a higher level despite lower ratings. A recent study by TV Guide measured the top ten "social shows" of the 2010-2011 season, and many were not the top rated shows. They are:
NCIS
American Idol
Criminal Minds
Glee
House
Fringe
Bones
Castle
Smallville
Law & Order: Special Victims Unit
As the TV world becomes more fragmented and broadcasters struggle against the commoditization of their ad inventory, social TV may be a big help in proving engagement and keeping their prices from sliding.
OK, now let's talk about social media as part of the marketing at your company. The real value of social media is not that is "cool" but because it generates customer engagement. If social media has the power to create enough engagement to save the broadcast market ...think it can with yours?
Read The New York Times account of social media at the Upfront event:
http://www.nytimes.com/2011/05/19/business/media/19adco.html
Read the TV Guide social media study:
http://www.tvguide.com/News/Most-Social-NCIS-Idol-1033024.aspx